District Apostle Urs Hebeisen together with District Apostle Helper Edy Isnugroho and Apostle Samuel Hadiwidagdo serves the children of God at Kedu in his last visit in Java area.
Jambean congregation (East Kedu District) became the first stop in the divine service which merged with Langenrejo congregation on Tuesday, July 17, 2018. "Suddenly there was an angel of God near Peter and the light in the room. The angel patted Peter to wake him, "Get up soon!" The chains fell out of Peter's hands" (Acts 12: 7), became the basis of the service. The power of the devil wants to bind us to remain in sin. Yet Jesus has the power to deliver sin. Our part comes to the light of Jesus, then the bonding chain of sin will fall. Attending the service was 191 souls.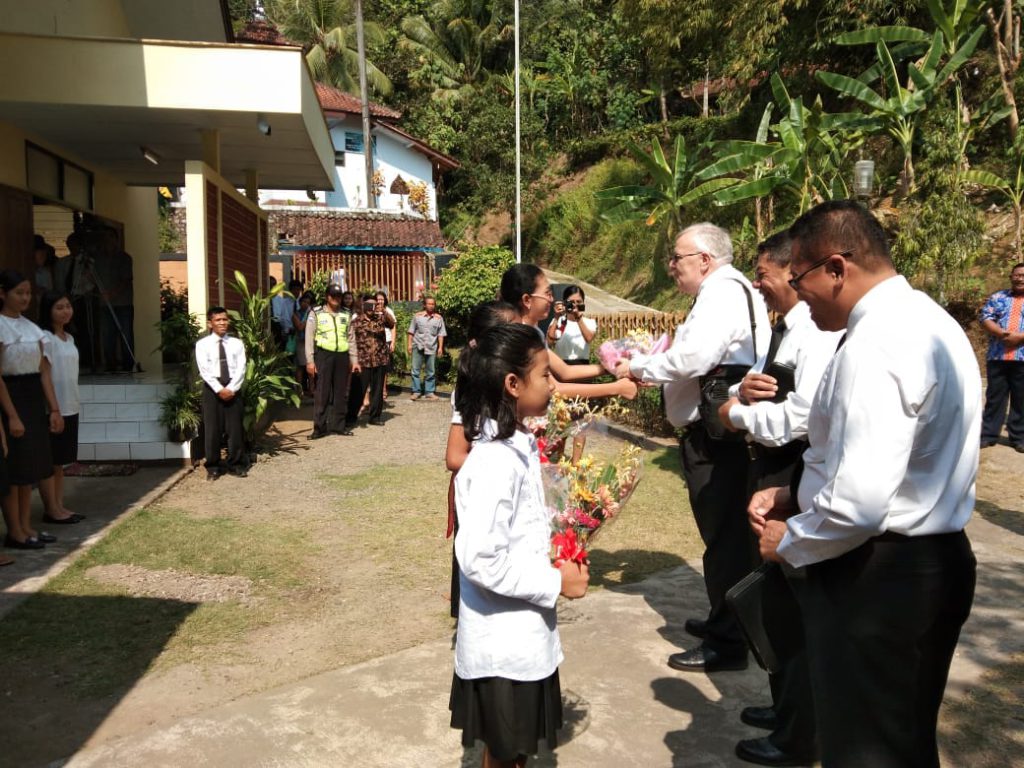 Then on Wednesday, July 18, 2018, the service for the entire district of West Kedu was held at Gombong congregation. 611 brothers and sisters takes part in the divine service which based on a passage from of Luke 11:10 "For whosoever asks, receiveth and every seeker seeks, and every one that knocks, and opens it."   We converse with God as a benevolent Father. God gives those who asked to Him. Our prayers should contain: Humility because we can not say our merits before God, deep thanksgiving, faith because we believe in God's love and His perfection and rely on Jesus. We look for Jesus to find Him. We are looking for: first, the Kingdom of God. Same like Jesus, we want to understand and do God's will. We also want to always strive for peace with others. If we meet the closed door we want to knock on the door with humility and do not break it, for only God can determine as we enter into His mercy.
On this occasion District Elder  Tri Prabowo received a well deserved retirement, as well as a silver wedding for himself and Sister Priksaniati.
Thursday, July 19, 2018 a musical event was held under the theme: "PRAISE GOD WITH JOY". Praise and musical presentation and the strains of keroncong became a new color in this musical events. "You have all been singing well, you have glorified God, and it is touched our souls as well for the souls in the realm" said District Apostle Urs Hebeisen at the end of the event.
This post is also available in: Indonesian