Pentecost … At home with the Chief Apostle or in our own congregation, maybe even with Holy Communion? The first option is open to everyone, the second one only to a few. The Chief Apostle's recommendation is clear.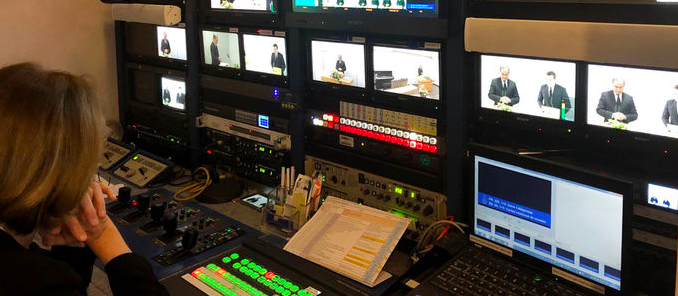 We have never seen so much of our Apostles. Since the coronavirus crisis forced our church doors to close, the members can regularly enjoy live online services by their Apostles and District Apostles, either via IPTV and YouTube or on TV, as for example in South Africa.
And we have never had so many Chief Apostle services either. Since the outbreak of the pandemic, Jean-Luc Schneider has conducted four divine services that could be received right around the world; on Palm Sunday and 3 May in French, on Easter in German (with additional simultaneous interpretations), and on 26 April in English. Another divine service is planned for Pentecost.
A special Pentecost for all
Feedback from the District Churches around the globe has shown that because of an ongoing ban of assemblies only very few countries will be able to actually have divine services in their local churches. If services are possible at all, then only in small groups, with distance between the individual worshippers, and challenges at Holy Communion.
"Anyone who can physically attend a divine service should do so," the Chief Apostle recommends. But he knows of the many for whom this is not possible or for whom actually attending a service would be too risky health-wise. Whichever way, He would like to make Pentecost a special celebration for everyone.
International birthday celebration
Pentecost is a very special feast for the New Apostolic Church: kind of like the global birthday party of the international congregation. Until the early 1980s, New Year's Day was the date for the international transmission then—audio-only.
Due to the rigours of winter, however, Pentecost increasingly came into focus; it falls within the European spring. What clinched it, however, is the significance of Pentecost as the birth of the church of Christ.
The tradition of worldwide video transmissions began on Pentecost 1990 in Vienna in Austria. At the time, 830 congregations in 17 countries in Western and Eastern Europe received the service audio-visually. Today, typically, tens of thousands of congregations across the world are connected.
The local congregation should be given preference
Normally, Argentina would have been the place of this year's central New Apostolic Pentecost gathering. But because of the pandemic the divine service with the Chief Apostle and the international meeting of the District Apostles has had to be postponed to later in the year.
The Pentecost service will be transmitted—as a webcast without Holy Communion—from a church building in the Rhine-Main-Area in Germany. The audio-visual team from Bischoff Publishers will broadcast the divine service. The Chief Apostle will serve in the English language, and his sermon will be consecutively interpreted into German. Additional languages will be offered by simultaneous interpreters.
Pentecost … online with the Chief Apostle or in our home congregation? For the Chief Apostle the answer is clear: "Anyone who has the chance to attend a service in her or his congregation and celebrate Holy Communion should give preference to that."
from nac.today
Photo: Jörg Idler
This post is also available in: Indonesian