It is always quite a lot of work, but it is worthwhile in any event. When the Chief Apostle steps behind the altar on Pentecost Sunday, there will be hundreds of thousands who will see and hear him—despite the corona crisis.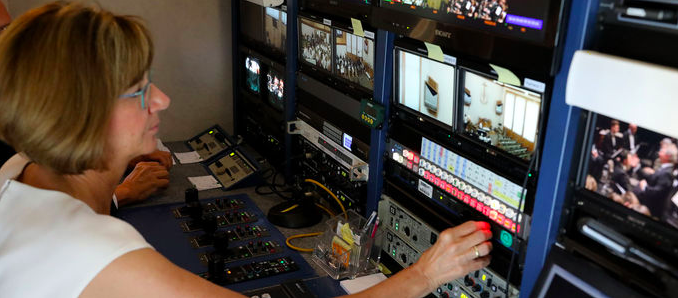 The technicians and interpreters will also have a great deal to do. After all, the worldwide transmission of Pentecost divine services is more or less the uttermost limit—there can be no greater technical proposition. The New Apostolic Church has been transmitting the Pentecost sermons of the respective Chief Apostles for decades already, usually at a rhythm of one every two years. Over these years, divine services from every continent have reached receiving congregations around the world. At the very beginning, everything was transmitted by cable and without video. This was later followed by satellite transmissions—with all the innovations they entailed: colour video, changing camera positions, production plans, recordings, graphics, and interpretations into many languages.
Prior to the service, there will be a look back at Pentecost celebrations past as far back as 2007, which will also be available on the central website of the New Apostolic Church. And since there were always special messages from the respective Chief Apostles in years past, these will also be featured.
Pentecost divine service with a safety concept
This year, however, things will be different—not the divine service, but the technology working in the background. Strict safety and hygiene protocols are in effect in nearly all states around the world. There will be no central satellite signal this time that will be sent up into space, received in local congregations, and shown on a large screen. This time, members will be able to watch the divine service at home on their television set, on their cell phones while travelling, or simply hear it on their landline. Chief Apostle Jean-Luc Schneider plans to come and preach in the New Apostolic congregation in Darmstadt in Germany. From there the camera's signal will make its way into the World Wide Web. This will be made possible by streaming services such as YouTube, or video portals like Vimeo. And from there it will be distributed to all end-user devices within seconds. A digital divine service without encoding, on many channels, and without any borders: only a few years ago, such a thing would have been inconceivable.
There are also other options, however: the New Apostolic Church in South Africa has already had its own television channel for about ten years. Its website relates the following concerning this: "The year 2010 will forever be etched in history as the year of South Africa. This year also saw the birth of the New Apostolic Church (NAC) Television Channel – NACTV." It broadcasts full programming seven days a week—and has even been free-to-air since 29 February 2020, that is, as television programming that can be received for free.
Darmstadt, a city rich in tradition
The New Apostolic Church in the Hessian city of Darmstadt has a rich tradition. Retired District Apostle Bernd Koberstein comes from the church district of the same name. Today the district is part of the New Apostolic Church of Western Germany, which is led by District Apostle Rainer Storck. As host, he will accompany the Chief Apostle on this occasion.
For the first time in several weeks, there will also be a small congregation present. While adhering to strict rules to prevent infection with the virus, a group of 44 participants will gather in the church sanctuary, including the Chief Apostle and some Apostles, musicians, and technicians. Also included in this number are the district and congregational rectors of the Darmstadt district, together with their wives. There will be no celebration of Holy Communion.
Order of divine service already planned
The structure of the divine service has been well planned in advance. A small string quartet will play, and there will also be organ and piano music. Even the hymns for the divine service have already been chosen. To start off the divine service, the congregation will sing hymn number 61: "Should I not to God be singing?" The hymn of repentance will be number 236: "Before my heart's King bowing", and the hymn before the closing prayer will be number 447: "O the home of my soul is on high". In this way, the great international congregation will at least be able to join together in three hymns—everyone in their own living room, of course.
A hymn performed by a choir will also feature in the programme—albeit as a recording, namely: "What a Friend we have in Jesus". This is something the "International Virtual Choir"—a choir with a website of its very own—has been practising for some time now.
Pentecost divine service in Bahasa Indonesia please click here
This post is also available in: Indonesian