"May your father now enjoy the peace of the faithful servants in the beyond," Chief Apostle Jean-Luc Schneider gave comfort to the bereaved family through e-mail read by the Apostle Samuel Hadiwidagdo at the funeral service of Apostle Yusak Saptohadiprayitno, who has passed away on May 5th 2020. Many brothers and sisters took part in delivering Apostle Yusak to his final resting place in Purworejo.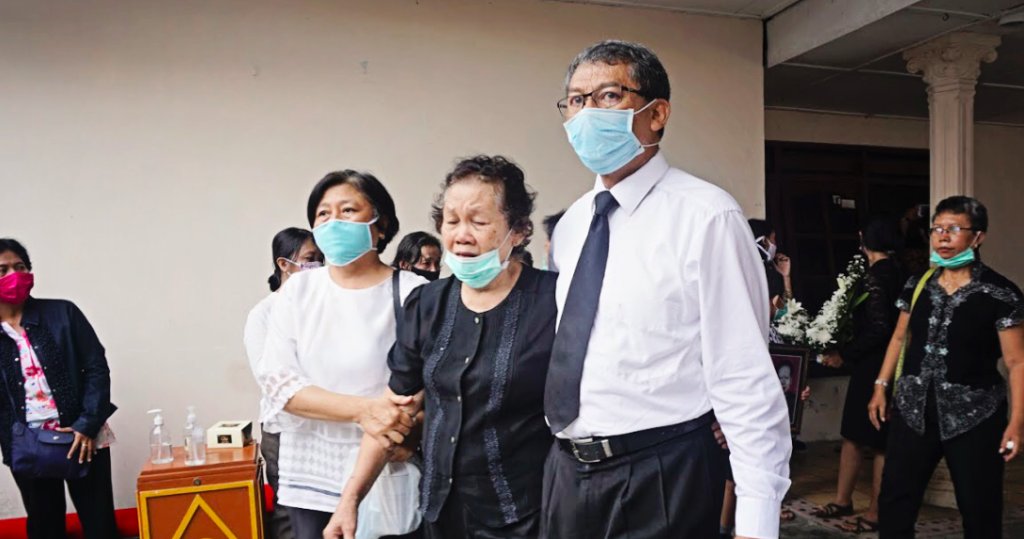 Experiencing God's grace
"Indeed peace can now be experienced by the deceased. But God also provides peace for the bereaved families left behind." Thus Apostle Samuel opened the funeral service and also prayed for Suratin, the wife of Apostle Yusak, as well as the whole bereaved families.
Apostle based this funeral service from Isaiah 26:12 "Lord, You will establish peace for us, For You have also done all our works in us." He emphasized that the late Apostle understood the grace of God. In the activities and work that he has done, he acknowledged that it was God who did it and not the results of his own work or efforts. When he prayed, God answered. God also gives strength for him to be able to do his work. When he preached the gospel, it was God who touched the heart and fulfilled it. The deceased recognized that it is God who works, and he is His instrument.
And now all of us – also with those who have been called into the beyond, we are still waiting for the return of the Lord. What He sowed while Apostle was actively working, as well as valuable advices He gave during his retirement, God also will make the seeds grow so that they are ready to be harvested on the day the Lord. "For that reason, just like the deceased, let us also always glorify God for His work."
A person full of love and patience
"Yusak was a great godly personality. I can truly say that because I know how humble he was. His love for souls, his love for His sender Jesus Christ and his unconditional loyalty made him a very accomplished man contributing much to God's work in Indonesia." He also added, "He radiated such love and patience even though we knew he suffered much pain. He always had a word praising the Lord and in his words sounded always the great longing for the accomplishment, the return of Christ."
Twenty three years as Apostle
Yusak Saptohadiprayitno, was born on February 19, 1937 in Banjarwinangun, Kebumen into a New Apostolic family and sealed by the Apostle Kepas Tjitowirjo. He lost his father at a very young age. At the age of 29 he took on his first ministry in the Church. A little later he received the priesthood ministry and subsequently served as a District Evangelist, District Elder, and Bishop. He was ordained as Apostle by Chief Apostle Hans Urwyler on October 14th 1979 in Münster, North Rhine-Westphalia. He works zealously to help two District Apostles: Hendra Tansahsami and Alfons Tansahtikno until his retirement on 2002 in Davao/Philippines.
This post is also available in: Indonesian